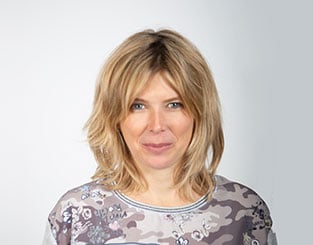 BIOGRAPHY
Selin was born in Istanbul. After studying at the University of Vienna for a degree in international business she spent some time at UCLA in California to expand her international experience. With this background she developed her interest in different cultures, religions and languages. Returning to Istanbul she worked in the banking sector for 10 years, gaining experience in marketing, product design and digitalization. Using this experience, she also supported her father with his hotel and hospitality businesses. In 2000 she challenged herself further, left banking and formed an IT start-up with two partners, followed by three other internet-based companies.
In 2013 she moved to Hamburg and after selling her businesses in Istanbul she invested in young IT  businesses and coaching start-ups.
Selin currently lives in Hamburg with her British husband, who she met in 2011 whilst traversing a crevasse in Switzerland! They have a six year old daughter.
FIELDS OF WORK
Selin's interests are solidly based in start-ups and founder coaching. At a business level she consults in areas of brand building, purpose and culture development.
She enjoys the challenge of philosophizing on subjects such as Digitalization and cognitive development. She has been invited to present inspirational talks about that topic in several business events.
Presently she is working on a new personal engineering program, focusing on balancing spiritual, intellectual and physical development.
INSPIRATION
"There are essentially two things that will enrich and nourish you. The books you read and the people you meet" Charles James.
Inspired by these words, combined with her endless appetite to learn more, she has read avidly and travelled extensively in the search of new insights, experiences and like-minded people. Thanks to one of these encounters she joined Conscious Consulting.
If you ask which books have shaped her life, here are some of the many;
Eleanor Hodgman Porter- Pollyanna/ her childhood
Herman Hesse- Narcissus and Goldmund/ her adolescence
Jack Canfield- The Power of Focus/ her early business life
Phil Jackson- Sacred Hoops/ her business life as a leader
Malcolm Gladwell-Outliers/ her coaching approach
Yuval Noah Harari- Homo Deus/ her future inspiration
Selin's ultimate entertainment book is "God's Debris" by Scott Adams.
INVITATION
If you are a start-up founder or someone in a leadership position, looking for someone who can listen to you to mutually develop new insights and the essence of your company, you can contact Selin at mallinson@ccg-group.com
WORK LANGUAGES
English, Turkish, German