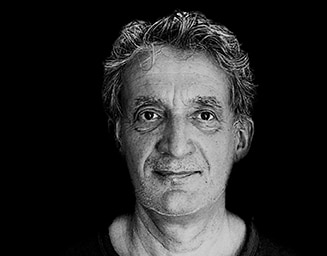 Christian Mayhofer
Founder, Managing Partner
BIOGRAPHY
Born into the early 60ies in rural Austria I was very early on inspired by the spiritual life in the Austrian countryside as well as the lights, sounds and smells of the city, seeming to be the promised land.
Fascinated by that which one could not see, not touch, not even had words for daydreams and books made me imagine the world out there, a world full of mystery that wanted to be explored and unveiled. This mystery lead to a life in both the mundane and the spiritual, from eastern traditions to the modern western traditions of science, economy, quantum physics, hard yet fluid stuff, all of which an expression of an inseparable one consciousness.
Being trained as a psychotherapist, social worker, economist and Buddhist monk, I worked with drug addicts and people suffering on HIV. Witnessing that suffering I was inspired by the idea of "a world that works for everyone". That experience asked for exploring the key driving forces of societies, one of which being the arena of business and the world of economy, which became a professional home. An identity as coach and business consultant began to form interwoven in the life as a lay Buddhist monk, cultivating capacities of finding paths and guiding through the unknown, unpredictable and volatile.
Consulting for over 30 years in European as well as global transformation projects allowed to research in and live a life at the intersect of technology, the abundant beauty and relevance of wisdom traditions, modern science and the livelihoods of the many. Currently I am working as Senior Advisor and Managing Director at CCG.
Today´s life for many of us show as liminal spaces, spaces between "what was" and "what´s next?", uncertain, non-predictable, opaque and all of which simultaneously occurring at highest velocity.
In order to stay sane in these times of multiple transformation we show Leaders and Executives ways forward and together explore possible futures. We give advise at CCG by creating islands of sanity, in all varieties and forms, mental ones, spiritual ones, physical ones, just like stepping stones in a mountain monastery help us navigate in the dark through heavy snow.
"Transforming wisdom into impact" became our guiding principle at CCG, being lights in the dark showing ways forward while being rooted in the abundant potential of the wisdom traditions of mankind.
INSPIRATION
Nisargadatta Maharaj, Dogen, Alan Watts, R.M. Rilke, Rupert Spira, Riane Eisler, Werner Erhard
CONTACT
WORK LANGUAGES
English, German