Where business meets wisdom
"No problem can be solved from the same level of Consciousness that created it" Albert Einstein
CCG – Conscious Consulting Group® is a new kind of consulting firm responding to the changing business needs of an emerging world. Our Consulting philosophy is based on the insight that we need to look deeper, wider and differently in order to solve problems and co-create a promising future.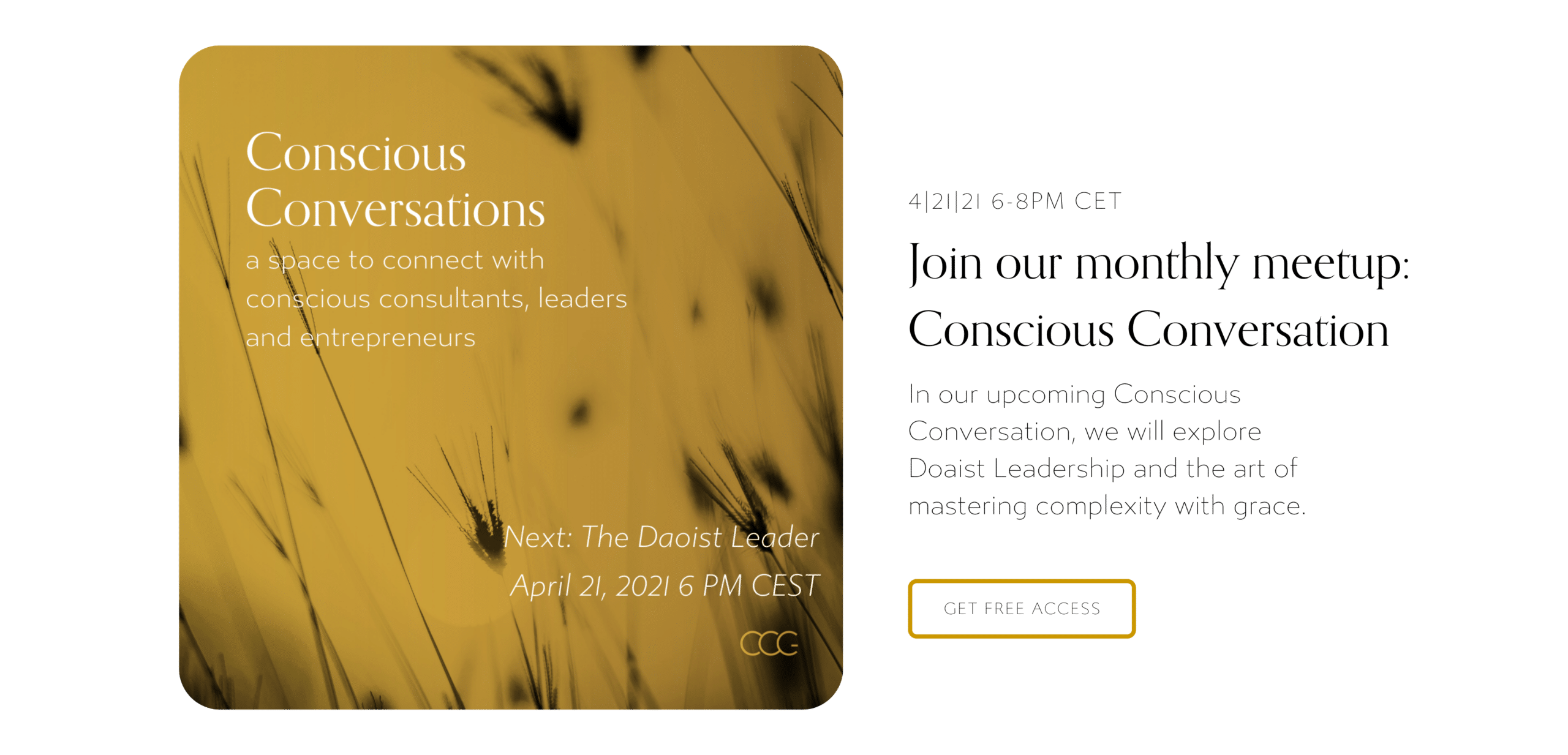 OFFERINGS
We create empowering offerings for you as a leader, expert, entrepreneur and consultant to master your daily challenges from a different level with wisdom and clarity – enriched by non-business fields such as philosophy, science and ancient wisdom.
Our offerings are following our 3-step Conscious Consulting philosophy:
1. Deepening Awareness – by looking deeper and wider
2. Creating new possibilities – out of a new worldview
3. Making a positive difference – based on wisdom
We provide consulting services in fields dedicated to development, turnaround, transformation and elevation such as:

Culture Transformation, Corporate Development, Leadership Development, Change Management, Organizational Design, Start-up & Growth, Corporate Wellbeing, Executive Coaching and Team Development.

All offerings are taylor made and designed to go deeper and wider beyond the possibilities of the past. Please contact us directly: office@ccg-group.eu

"If you want to go fast, walk alone. If you want to go far, go together"

New, emerging movements need a safe space to grow and develop – and they need mutual support and encouragement.

We explore topics that are essential and urgent to us, not necessarily yet part of the current mainstream business and consultant world.

Conscious Consultants, Leaders and Experts meet in our community on LinkedIn, our regular meet-ups like the Conscious Conversations and our open programs. Please get in touch with us directly at office@ccg-group.eu

We create a blend of free Meet-ups and Workshops as well and more intense Programs in the field of Conscious Leadership and Conscious Consulting

Pre-register for our Conscious Consulting Academy, a 6-month program designed to enroll you in the power of being and acting as a Conscious Consultant.
BLOG
2021-04-12
 Daoism and Leadership are not an obvious match. Daoism teaches us the attuitude of non-doing, not-knowing, selflessness, humbleness, spontaneity and…
Load More

PODCAST
When ancient kings have looked for answers they sought help in old wisdom traditions such as Daoism. Famous Daoists like Lao Tzu were the leadership consultants of these times.  And until this day the wisdom of Daoism is highly valuable when it comes to the business-related questions of our times – therefore we need to…

Robert Thomas is a successful serial-entrepreneur based in San Franciso and lived more than 21 years as an ordained Zen Buddhist priest. He has almost 30 years of meditation practice. And teaches now for over 18 years mindfulness meditation in secular settings and retreats, bringing traditional wisdom principles and practices to business leaders all around the…
Advisors
Your team of Senior Advisors is accomplished and rooted in diverse backgrounds such as Quantum Physics, Buddhism, Medicine, Consulting, Business, Economics, Management, Psychotherapy, Mindfulness, Feldenkrais, Taoism, Holism and Ecology. Complex problems ask for a broader and deeper wisdom within a diversity of disciplines.