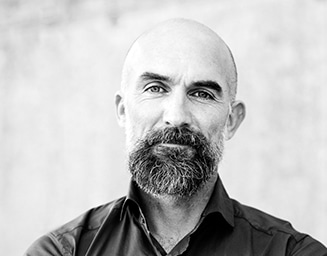 BIOGRAPHY
Matthias was born and raised in Germany. In his youth he spent several years traveling on a soul-searching mission throughout Africa, South- and Southeast Asia before studying at the School of Oriental and African Studies (SOAS) in London. After 10 exciting years close to the pulse of the world in London and a stint at the US west coast, he sought out tranquility and proximity to nature, in Innsbruck, Austria, where he lives with his wife, two kids and two dogs.
FIELDS OF WORK
Matthias has a background in science and research, both as scientist and designer of research programs in the field of climate change adaptation. He is a startup founder and social entrepreneur. Currently he designs workshops for incubator programs and advises startup teams on purpose, impact, mindset and team culture at Startup.Tirol. Matthias is mentor in various impact focused networks (SIA, Bilduenger, SETup) and gives lectures4future at the University of Innsbruck. He offers his services as systemic personal and business coach, consultant and advisor to teams and individuals. Matthias is a Founding Member of the CONSCIOUS CONSULTING GROUP.
INSPIRATIONS
Matthias is a passionate conversationist, voracious reader and listener of podcasts. He loves nothing more than the epiphany of discovering where science, contemplative traditions and philosophy meet. He takes inspiration from Sam Harris to Marcus Aurelius, from Alain de Botton to Osho and sets out to align his life accordingly. He fails to do so every single day.
INVITATION AND CONTACT
If you want to explore your personal and professional purpose, if you are looking for growth and transformation, if you are after mutual learning and authentic exchange with the aim of figuring out how we can make meaning and co-create a world that works or everyone, you can get in touch with Matthias for individual coachings, sparrings and philosophical meditations at monreal@ccg-group.eu
WORK LANGUAGES
German, English